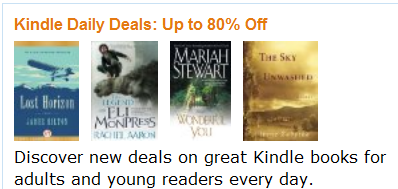 Every day Amazon offers a selection of Romance, Science Fiction, Fantasy and Teen titles at a discounted price.
Kindle Daily Deals – Each day they unveil new Kindle book deals for adults and young readers with prices usually ranging $1.99-$2.99. Here are today's selections:

Kindle Monthly Deals – Each month they unveil a new collection of 100 Kindle books for $3.99 or less.
Here are some FREE kindle titles available for download at the moment:
Fiction
Maid for the Billionaire (Book 1) (Legacy Collection).
Freedom Bridge: A Cold War Thriller.
Wearing the Spider (A Suspense Novel) (Legal Thriller) (Thriller).
An Innocent Client (Joe Dillard Series No. 1).
Playing Doctor (Bandit Creek Books).
Cassidy Jones and the Secret Formula (Cassidy Jones Adventures, Book One).
Love Advice for The Dog of Action and Other Funny Stories. (Lunch Break Funnies).
Non-Fiction
Critical Thinking: Tools for Taking Charge of Your Professional and Personal Life.
Natural Homemade Cleaners :The Ultimate Guide – Over 30 Green & Eco Friendly Solutions.
25 Cool Things to Do with Wine Bottles.
Composting on Shoestring Easy 1,2,3, Steps Garbage to Composting.
Children's
Lessons from the Lion, the Ox and their little friends (illustrated) (Four fables from Aesop).
Princess Diadora: Just an Ordinary Ballerina.
Every Kid's Guide to Responding to Danger (Living Skills).
Rebekah – Girl Detective #1: The Mysterious Garden (a fun short story mystery for children ages 9-12).
Cooking
Smoothie Recipes for Weight Loss – 30 Delicious Detox, Cleanse and Green Smoothie Diet Book.
40 Top Paleo Recipes – Quick and Easy Paleo Diet Recipes For Weight Loss (Paleolithic Diet Cookbook).
Simple Gluten Free & Paleo Bread: Fast, Sumptuous and Guilt-Free Baking Recipes – Satisfy Your Primal Cravings!.
Things Mother Used to Make A Collection of Old Time Recipes, Some Nearly One Hundred Years Old and Never Published Before.
The Paleo Summer Survival Guide: 12 Must-Have Recipes Plus Insider Tips for a Healthy, Happy Summer.
Easy Almond Flour Recipes 2.0 – A Decadent Gluten-Free, Low-Carb Alternative To Wheat (The Easy Recipe).
Natural Pain Relief Using Common Natural Ingredients in Your Kitchen.
The Paleo Kid Lunch Box: 27 Kid-Approved Recipes That Make Lunchtime A Breeze (Primal Gluten Free Kids Cookbook).

Remember that you do not need a Kindle e-reader to be able to read this book. You can read it on your PC, iPhone, iPad
, Blackberry and Android. Just download for free the appropriate application to be able to do that. Amazon changes prices without notice, so make sure to check that the kindle price it is still $0.00 before you start downloading this book.