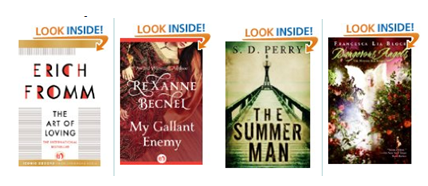 Every day Amazon offers a selection of Romance, Science Fiction, Fantasy and Teen titles at a discounted price.
Kindle Daily Deals – Each day they unveil new Kindle book deals for adults and young readers with prices usually ranging $1.99-$2.99. Here are today's selections:
Kindle Daily Deal: [easyazon-link asin="B00BBPWAJC"]The Art of Loving[/easyazon-link] by Erich Fromm $1.99
Science Fiction & Fantasy Daily Deal: [easyazon-link asin="B009OHHF94″]The Summer Man[/easyazon-link] by S.D. Perry $1.99
Romance Daily Deal: [easyazon-link asin="B00BX8U51M"]My Gallant Enemy[/easyazon-link] by Rexanne Becnel $1.99
Children and Teen Daily Deal:  [easyazon-link asin="B002BY77CM"]Dangerous Angels: The Weetzie Bat Books[/easyazon-link] by Francesca Lia Block $1.99

Kindle Monthly Deals – Each month they unveil a new collection of 100 Kindle books for $3.99 or less.
Thanks to Living Chic on the Cheap here are some FREE kindle titles available for download at the moment:
Mystery
Living Lies (Book 1 of the Agent Melanie Ward Novels)
Romance
Christian Fiction
A Stranger's Gift (Women of Pinecraft)
Forgiving And Learning To Love: An Amish Christian Romance
Paranormal Fiction
Following Bliss (The Quest series)
Insight (Book One) (The Insight Series)
Contemporary Fiction
Young Adult Fiction
The Journals of Kara and Jason
Goddess Legacy: Goddess Series Book 1
Preteen Fiction
Good Enough (A Shay James Mystery)
Arkeepers: Episode One: Keepers
Children's Fiction
Non-Fiction
Stages of Homeschooling: Beginnings (Book 1)
Live Simple: 31 Tips To Declutter, Simplify, And Organize Your Life
Cookbooks
Delicious, Quick & Simple Paleo Breakfast Recipes
Farm Girl Country Cooking: Hearty Meals for the Active Family

Remember that you do not need a Kindle e-reader to be able to read this book. You can read it on your PC, iPhone, iPad
, Blackberry and Android. Just download for free the appropriate application to be able to do that. Amazon changes prices without notice, so make sure to check that the kindle price it is still $0.00 before you start downloading this book.