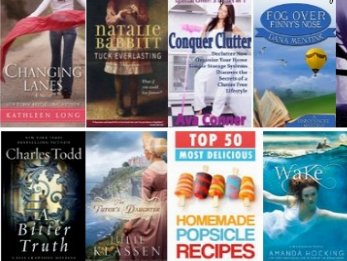 Every day Amazon offers a selection of Romance, Science Fiction, Fantasy and Teen titles at a discounted price.
Kindle Daily Deals – Each day they unveil new Kindle book deals for adults and young readers with prices usually ranging $1.99-$2.99. Here are today's selections:

Kindle Monthly Deals – Each month they unveil a new collection of 100 Kindle books for $3.99 or less.
Thanks to Living Chic on the Cheap here are some FREE kindle titles available for download at the moment:
Mystery
Uneasy Spirits: A Victorian San Francisco Mystery
Progressive Dinner Deadly (A Myrtle Clover Mystery)
Romance
Race to the Altar: A sweet contemporary romance
Christian Fiction
Let Them Eat Cake: A Novel (French Twist)
Paranormal Fiction
The Infernal Detective (Riga Hayworth)
Contemporary Fiction
Winds of Change (Look to the Future)
Young Adult Fiction
Forbidden (Book 1, The Arotas Trilogy)
Preteen Fiction
The Green Beans, Volume 1: The Mystery of Hollow Oak
The Green Beans, Volume 2: The Strange Genius of Lefty O'Houlihan
Children's Fiction
Lily Lemon Blossom Welcome to Lily's Room
Spark – A Bedtime Rhyming Children's Picture Book
Non-Fiction
Conquer Clutter: 3 Books in 1 – Declutter Now, Organize Your Home, Simple Storage Systems – Discover the Secrets of a Clutter Free Lifestyle
The Backyard Chickens Handbook: What You Need to Know to Raise Backyard Chickens (Modern Homesteading)
Cookbooks
Cooking for the Freezer: 25 Make-and-Freeze Recipes
Top 50 Most Delicious Homemade Popsicle Recipes (ice pops, ice lollies) (Recipe Top 50′s)

Remember that you do not need a Kindle e-reader to be able to read this book. You can read it on your PC, iPhone, iPad
, Blackberry and Android. Just download for free the appropriate application to be able to do that. Amazon changes prices without notice, so make sure to check that the kindle price it is still $0.00 before you start downloading this book.