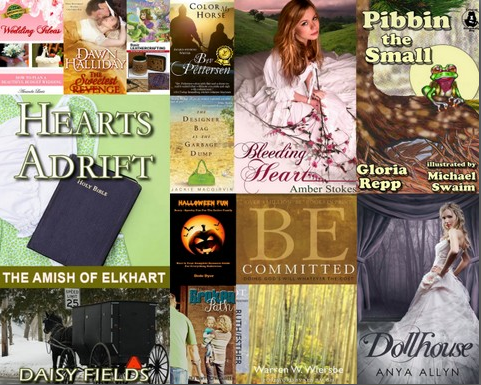 Every day Amazon offers a selection of Romance, Science Fiction, Fantasy and Teen titles at a discounted price.
Kindle Daily Deals – Each day they unveil new Kindle book deals for adults and young readers with prices usually ranging $1.99-$2.99. Here are today's selections:
Kindle Daily Deal: [easyazon-link asin="B000WJQTRW"]Hand of Evil (Ali Reynolds)[/easyazon-link] by J. A. Jance $1.99
Science Fiction & Fantasy Daily Deal: [easyazon-link asin="B009R2WK82″]The Sensory Deception[/easyazon-link] by Ransom Stephens $1.99
Romance Daily Deal: Four romance books by Kristen Ashley $1.99
Children and Teen Daily Deal: [easyazon-link asin="B00552XCF8″]The Mystery of the Blue Ring: 1 (The Polk Street Mysteries)[/easyazon-link] by Patricia Reilly Giff $1.99

Kindle Monthly Deals – Each month they unveil a new collection of 100 Kindle books for $3.99 or less.
Thanks To Rose Knows Coupons here are some FREE kindle titles available for download at the moment:
Romance
COLOR MY HORSE (Romantic Mystery)
Hussy (New Adult Interracial Romance)
Lucien (Manipulating the Masters)
Forbidden Fruit (New Adult May December Romance)
Prescription for Love (A Homespun Romance 7)
Contemporary
The Man in Black, The Woman in White
Blame it on the Stars (The Blame Game 1)
Historical
The Hands of Time (The Hands of Time: Book 1)
Christian, Religious & Inspirational
Be Committed (Ruth & Esther): Doing God's Will Whatever the Cost (The BE Series Commentary)
The Designer Bag at the Garbage Dump: A Novel
Hearts Adrift (The Amish of Elkhart County #1)
First ladies Club: When The Church Has Come Off
Become the Confident Mom You've Always Wanted to Be – 31 strategies to improve your confidence as a woman, mother, and family manager
Young Adult
The Binding Stone (The Djinn Series)
Mystery, Suspense & Action
In Firm Pursuit (Vernetta Henderson Series No. 2 2)
Deliver Us From Evelyn (Kansas City Blues Crime Series)
Paranormal, Fantasy & Science Fiction
Dollhouse (The Dollhouse Books, #1)
Home, DIY, & Crafts
Basic Leathercrafting: All the Skills and Tools You Need to Get Started (How To Basic Series)
House Mommy's Boredom Busters – 201 Fun Things to Do With Kids!
Wedding Ideas . . . How to Plan a Beautiful Budget Wedding
Halloween Fun – Scary – Spooky Fun For The Entire Family
Children's
The Mystic Travelogues (Volume 1)
Horses: Horses For Kids: A Kids Picture Book About Horses
The Littlest Fairy ( A Gorgeous Illustrated Children's Picture Ebook for Ages 3-8)
Pibbin the Small: A Tale of Friendship Bog (Friendship Bog Series 1)
Biographies & Memoirs
Harriet, the Moses of Her People
A Life Worth Reading: John Fitzgerald Kennedy
Cookbooks
Breakfast Mug Menus: Quick & Easy Meals for Everyone
The Guacamole Cookbook: Simple and Easy Guacamole Recipes
Sorbet Recipes – 45 Quick & Easy Delicious and Unique Recipes

Remember that you do not need a Kindle e-reader to be able to read this book. You can read it on your PC, iPhone, iPad
, Blackberry and Android. Just download for free the appropriate application to be able to do that. Amazon changes prices without notice, so make sure to check that the kindle price it is still $0.00 before you start downloading this book.