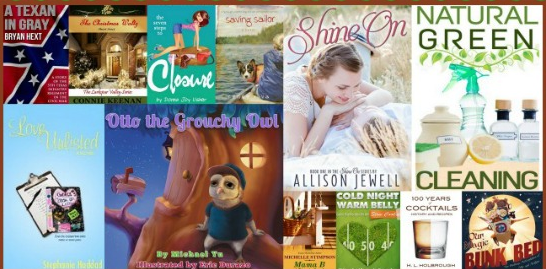 Every day Amazon offers a selection of Romance, Science Fiction, Fantasy and Teen titles at a discounted price.
Kindle Daily Deals – Each day they unveil new Kindle book deals for adults and young readers with prices usually ranging $1.99-$2.99. Here are today's selections:

Kindle Monthly Deals – Each month they unveil a new collection of 100 Kindle books for $3.99 or less.
Thanks To Rose Knows Coupons here are some FREE kindle titles available for download at the moment:
Romance
The Executive's Decision (The Keller Family Series)
Between Then and Now (The Wardham Series)
Secret Santa, A Bluegrass Series Novella
Eat The View (* 'E-Book of the Week' – THE SUN *)
Three Year Rule (The Rule Series)
Contemporary
Ready or Not (Aggie's Inheritance)
The Daddy Pact (The Coach's Boys)
Promise Cove (A Pelican Pointe Novel — Book One)
Historical
Christian, Religious & Inspirational
Mama B – A Time to Speak (Book 1)
God Knows My Name: Never Forgotten, Forever Loved
The Christmas Waltz (The Larkspur Valley Series)
Young Adult
Worst Impressions: a Teen Romantic Comedy (The Jane Series)
Dazzle (Delaney's Gift #1) (Delaney's Gift Series)
Mystery, Suspense & Action
To Whisper a Kiss (The Tom O'Conner Files)
Paradise Lost: With bonus material from The Demonologist by Andrew Pyper
Paranormal, Fantasy & Science Fiction
Home, DIY, & Crafts
Natural Green Cleaning: How To Organize, Clean, And Keep Your Home Spotless Without Toxic Cleaners
The Low-Maintenance Container Gardening Book – How to Build Your Own Easy Container Garden Bursting with Vegetables, Herbs and Fruit
Children's
Our Magic Bunk Bed: The Bedtime Adventures of Ally and Arthur
Otto the Grouchy Owl (An Awesome illustrated children's picture book that teaches a good moral lesson for Ages 3-8)
I Love You Best: A Book To Read Together (A Rhyming Picture Book For Young Children)
Cookbooks
Coconut Flour! 47+ Irresistible Recipes for Baking with Coconut Flour: Perfect for Gluten Free, Celiac and Paleo Diets [2013 Edition] (Gluten-Free Goodness Series)
The 7 Most Traditional Paella Recipes.
Cold Night Warm Belly: 35 Game Day Recipes For The Slow Cooker (Cold Night Warm Belly Slow Cooker Recipes)
100 Years of Cocktails: History and Recipes

Remember that you do not need a Kindle e-reader to be able to read this book. You can read it on your PC, iPhone, iPad
, Blackberry and Android. Just download for free the appropriate application to be able to do that. Amazon changes prices without notice, so make sure to check that the kindle price it is still $0.00 before you start downloading this book.