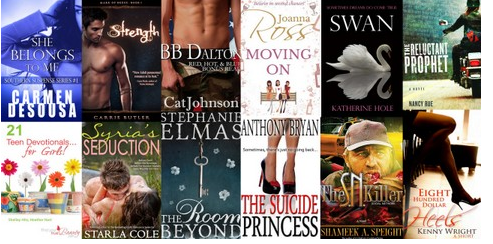 Every day Amazon offers a selection of Romance, Science Fiction, Fantasy and Teen titles at a discounted price.
Kindle Daily Deals – Each day they unveil new Kindle book deals for adults and young readers with prices usually ranging $1.99-$2.99. These are only discounted for today.

Kindle Monthly Deals – Each month they unveil a new collection of 100 Kindle books for $3.99 or less.
Thanks To Rose Knows Coupons here are some FREE kindle titles available for download at the moment:
Contemporary & Romance
Accidental Bride and Groom (Rancher's Bend Bride and Groom Series)
How to Torture Your Stepmother (A Contemporary Romance for real women)
She Belongs To Me (Southern Suspense Series)
Rae Falling: An Erotic Romance, Episode 1 of The Devilhouse Books
Syria's Seduction 1: A New Adult Introduction to the Boudoir Sessions Series
Historical
Leadership Lessons from the Battle of Gettysburg (Historical Lessons for Modern Leaders)
Three Wishes for Miss Winthrop
Christian, Religious & Inspirational
The Reluctant Prophet: A Novel (The Reluctant Prophet Series)
21 Days of Faith Challenge (A Life of Faith)
21 Teen Devotionals…For Girls! (True Beauty Books)
Young Adult
The Inner Circle, Book 3 of the Glass Wall ( A YA Urban Fantasy Romance )
The Lens and the Looker (The Verona Trilogy)
The Wrong Side Of The Tracks (Leighton)
Mystery, Suspense & Action
Fairwood (a suspense mystery thriller)
Blood Forest (Suspense thriller)
Paranormal, Fantasy & Science Fiction
Released (The Shapeshifters' Library)
Mercy's Magic (Mercedes Cruz #1)
Fellwater (The Fellwater Tales)
Even Zombie Killers Get The Blues (Zombie Killer Blues)
Home, DIY, & Crafts
Knitting for Knitwits: The Quick and Easy Learn to Knit Guide (with six easy patterns) (Craft Instructables)
How to Make A Great Soy Jar Candle: Revealing My Favorite Candle Suppliers
The Big Book of Craft Interviews
How to Make Beer Like a Pro: Complete Guide to Home Brewing – Even in Small Spaces
Children's
Sea Life Funny & Weird Marine Animals – Learn with Amazing Photos and Facts About Ocean Marine Sea Animals. (Funny & Weird Animals Series)
Cat Cabby – Cat Books for Kids (Picture Books for Children)
Rebekah – Girl Detective #2: Alien Invasion (a fun short story mystery for children ages 9-12)
Biographies & Memoirs
The Seekers: Finding Felons and Guiding Men: A Bounty Hunter's Story
The Contenders: Excerpts from the 2013 National Book Award Nonfiction Finalists
Cookbooks
Homemade Potato Chips :The Ultimate Recipe Guide – Over 30 Delicious & Best Selling Recipes
Crumb Cake :The Ultimate Recipe Guide – Over 30 Delicious & Best Selling Recipes
Delicious Homemade Ice Cream Recipe by Katharine Koe

Remember that you do not need a Kindle e-reader to be able to read this book. You can read it on your PC, iPhone, iPad
, Blackberry and Android. Just download for free the appropriate application to be able to do that. Amazon changes prices without notice, so make sure to check that the kindle price it is still $0.00 before you start downloading this book.