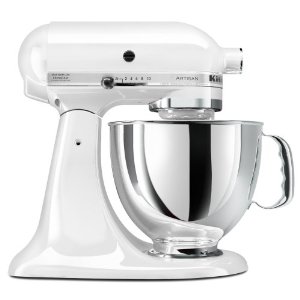 Amazon has KitchenAid Artisan 5-Quart Stand Mixers
on sale for $199.95. This price is available for the following colors: White, Empire red and Onyx Black. Plus there is a rebate offer available when you buy a Kitchen aid Mixer: Get a rotor slicer/shredder or food grinder attachment free after rebate (up to $44 value).  This is not cheap but because of the additional attachment you can get after rebate, I think this one is a great value.  Plus it has the 5 quart bowl which is bigger than the 4.5 that comes with the classic.
In the past I have used the food grinder when we bought meat in bulk to make our own ground beef.  I just went back to this blog's archives and the other kitchen aid deal I shared was for a Professional one for $250 after rebate back in November.