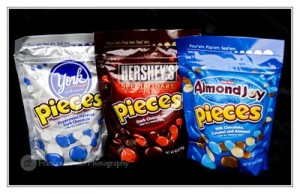 Calling all chocoholics!  This deal is for you!  Starting tomorrow 1/31 Kmart is offering a free $10 Kmart Gift Card when you buy four bags of Hershey's Pieces.  They are also on sale 2/$5.  So, basically you can get the chocolate for free after mail in gift card offer but you can turn it into a moneymaker like this:
Buy four bags of Hershey's Pieces 2/$5
Use four $1/1 Hershey's Pieces chocolate coupons from 1/31 SS insert
Pay $6 plus tax out of pocket
Submit for mail in $10 gift card offer and come out ahead $4
The mail in form prints at checkout and usually at the bottom of your receipt.  The gift card is good towards the use of more Hershey's products but for all we know it could just be a generic $10 Kmart Gift Card.  Plus don't forget that if you mail in a wrapper you can get another one free.
Thanks Saving in MO!