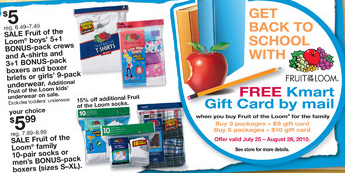 Kmart is running a gift card promotion on Fruit of the Loom items.  The new Fruit of the Loom coupon helps makes this a good deal.  This is the gift card promotion:
Buy 3 pack get a $5 Kmart gift card or buy 5 packs get $10 Kmart gift card by mail.  The packs are on sale for $5 each.
Here is a deal idea
Buy five Fruit of the Loom packs of under wear, socks, or undershirts $5 each
Use two $1/2 Fruit of the Loom Coupons
Pay $23 plus tax out of pocket and get back one $10 Kmart gift card back by mail
That makes each pack only $2.60!  In  the past the rebate form prints at the bottom of your receipt, so it may be the same this time.  Make sure to see your store for more information.  This deal is by the way advertised in the ad if your store acts clueless.
Thanks Marcia!