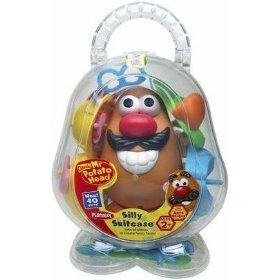 Kmart has selected Playskool toys on sale this week (12/13-12/19) on sale for $10.  Two of the toys are the Mr. Potato Silly Suitcase and the Playskool Swing and Score toys.  Use the following coupons to get them for $5 each:
Save $5.00 on the purchase of (1) PLAYSKOOL® SWING 'N SCORE BASEBALL™ toy
Save $5.00 on the purchase of (1) MR. POTATO HEAD® Silly Suitcase™ toy
Just two days ago I bought the Silly Suitcase for my son and even though he has not opened it (I haven't even wrapped it yet!), I do like the idea of the suitcase to keep all of those parts stored in.
Thanks to Joan for the reminder that you can take the Kmart ad to your local Target or Walmart to have this price matched.