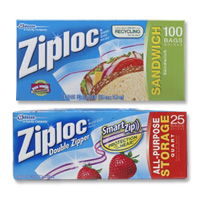 Those Ziploc bags coupons I shared with you earlier make for a SUPER deal on these at Kmart. There seem to be two overlapping catalina offers available at kKmart:
Spend $10 in Ziploc products and get a $5 catalina back.  I believe this is an advertised deal in the weekly sales ad.
Buy 4 Ziploc products and get a $2 catalina back.  This is a nationwide catalina offer working at other stores and Kmart as well.
Here are the coupons you can use on this offer:
$1/2 Ziploc Bags 03/25/2012 SS Insert (exp 05/05/2012)
$0.60/1 Ziploc Brand Bag or $0.70 after you watch the video. You can print both values at once actually if you select to print both coupons
$1/2 Ziploc Brand Bags, (40 points) on Recycle Bank
$0.55/1 Ziploc Portions Bag 03/25/2012 SS Insert (exp 05/05/2012)
More Ziploc coupons here
Here is your transaction:
Buy four boxes of Ziploc bags $10
Use four 70/1 Ziploc printable coupons (if you get access to two computers)
Pay $7.20 out of pocket and get back a $5 catalina and a $2 catalina back
That's like paying only 20 cents for all four boxes! Wow! This is about as cheap as it gets folks! I am traveling right now but i CAN'T wait to go rock this deal. Hopefully noone has cleared the shelves at my store yet.
Thanks Mashup Mom!