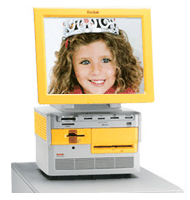 Kodak has released a new feature on their Kodak Picture Kiosks called their Pet Eye Retouch.  This feature  fixes alterations in your pet's eye color (think red eye) when a picture is taken. Right now on Facebook, you can print a coupon for $5 off wyb 20-4×6 instant Kodak prints. This coupon should make for free pictures AND since you print at the kiosk, you won't have any shipping fees!  Kiosks can be found at Target and other local stores.
Here's how to get your coupons:
1. Visit Kodak's Facebook page here

2. Click on "Vote and View this month's entries" (you do NOT have to submit your own photo)

3. Vote for your favorite picture

4. Print your coupon (remember to hit the back button and print twice!)
Thanks, Passion for Savings!