The Kohl's Black Friday Sale!
Right now we have a 15% off code that will be active during the Kohl's Black Friday sale. There will not be a 30% off code.
Percent Off Codes:
Take an extra 15% off – NOV15 – valid 11/23-11/27
Free Shipping on $50. No code required.
or
Buy online and pickup in store.
Kohl's Black Friday Kohl's Cash – Once a year amount!
Earn $15 in Kohl's Cash for every $50 you spend from 11/23 – 11/29. (Redeem 11/30 – 12/6.)
Kohl's is by far one of the most poplar Black Friday sales! There are great deals, great discounts and the ever popular "Earn $15 in Kohl's Cash for Every $50 You Spend"! That amount of Kohl's Cash only happens for Black Friday. The best deals sell out FAST so make your purchases now!!
KOHL'S BLACK FRIDAY SALE!!!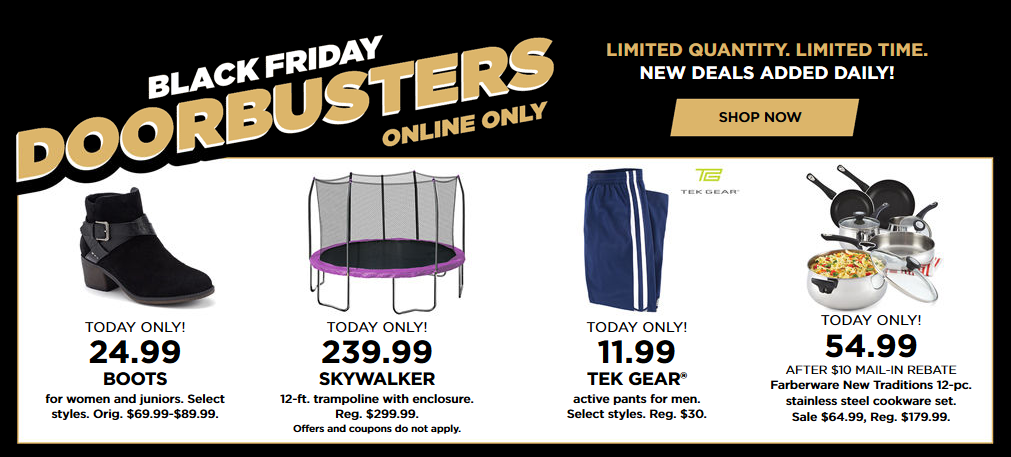 Doorbusters Today Only!
$64.99 + get a $10 mail-in rebate New Traditions Farberware 12-piece stainless steel cookware set. Regularly $174.99.
$89.99 Video Game Rocker with wireless Bluetooth. Regularly $199.99.
$239.99 Skywalker 12 ft. Trampoline. Regularly $299.99.
$11.99 Tek Gear active pants for men. Regularly $30-$32.
$21.99 NCAA hoodies for men. Originally $50.
$34.99 Team Sherpa Throws. Originally $50.
$34.99 Adidas, Asics and Reebok Athletic shoes. Regularly $69.99-$79.99.
60% off Boys Outerwear. Select styles.
$9.99 Character fleece for juniors and girls 7-16. Regularly $30.