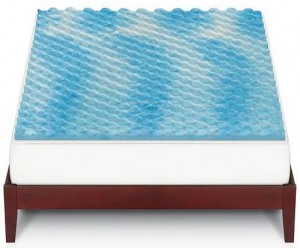 This is a fantastic price on this highly-rated mattress topper! Kohl's cardholders can get the The Big One Gel Mattress Topper for only $24.49! And this price is available for all Sizes! Just enter promo codes HARVEST30 and SEPT4FREE at checkout.
This mattress topper provides cooling comfort and support, extends your mattress life, and relieves painful pressure points. It is available in sizes twin-king. Additional sizing information is as follows:
Twin XL: 78" x 37"
Twin: 73" x 37"
Full: 73" x 52"
Queen: 78" x 58"
King: 78" x 75"
California king: 82" x 70"
Not a Kohl's cardholder? You can enter promo code BIGSAVER at checkout to save 15% off your total purchase! So you can score The Big One Gel Mattress Topper for only $29.74! Make sure to select in-store pickup to avoid additional shipping fees!