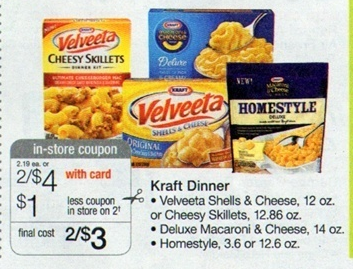 Wow! Starting on 2/17 at Walgreens you'll be able to grab some nice deals on Kraft Dinner products!  Here's how:
Kraft Velveeta Shells and Cheese or Cheesy Skillets, Deluxe Mac and Cheese or Homestyle Mac and Cheese 2/$4
Use $1/2 Kraft Homestyle Macaroni & Cheese, 3.6 – 12.6 oz 02/10/2013 SS Insert (exp 03/10/2013) or
Use $1.00 off TWO (2) VELVEETA Shells & Cheese Dinners or
Use $1.00 off TWO (2) VELVEETA Skillets or Casseroles
PLUS $1/2 Kraft Mac & Cheese, deluxe or homestyle or Velveeta Shells & Cheese or Skillet Cheeseburger Mac Walgreens IVC, February 2013
Pay $1 each after coupons
Check out the other Walgreens deals here.
Thanks Extremely Wild for Savings