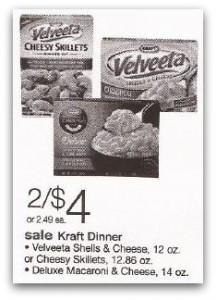 Starting 8/26 at Walgreens, Kraft Macaroni or Shells & Cheese will be on sale for  2/$4 plus this is a participating item in the Kraft Catalina promotion I have talked about all week!  Be sure to grab the new Walgreens September Coupon Booklet at your store.  Here are the details:
Buy 3-5 participating Kraft products get back $2 RR, Buy 6-9 products get back $5 RR, Buy 10+ products get back $10 RR
Buy (5) Velveeta Shells & Cheese 12oz – 2/$4
Buy (5) Kraft Deluxe Macaroni & Cheese 14oz – 2/$4
Use $1/2 Kraft Mac & Cheese Deluxe 14oz, Velveeta Shells & Cheese, 12oz or Homestyle Dinner 3.5 to 12.6oz (5284) Walgreens September Coupon Booklet (deducts $5)
Pay $15, get back $10 RR
That works out to be just 50¢ per box after coupon and rewards!
Don't forget you can mix and match, all you have to do is buy a certain number of products.  You get the best discount when you buy ten items.  See a full list of participating items here.
Check out all the best Walgreens deals here.
Thanks Wild for Wags