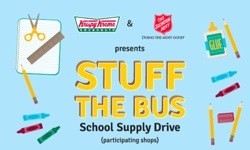 Donating extra school supplies is always something we couponer love to do!  Now we can get rewarded for our donation efforts!  Krispy Kreme and the Salvatiion Army are teaming up for a Stuff the Bus School Supply Drive to help those in need. 
From now until September 9, 2012 bring in your items to get a free doughnut.  They have a list of qualifying donations so check out the list.  Plus, if you bring in an entire backpack full of items you will get a dozen free doughnuts!  Check out all the details you need to know here.
Call your nearest location to see if they are participating and then simply drop off your supplies at a Krispy Kreme.  Not all locations will participate.
Thanks Mission to Save