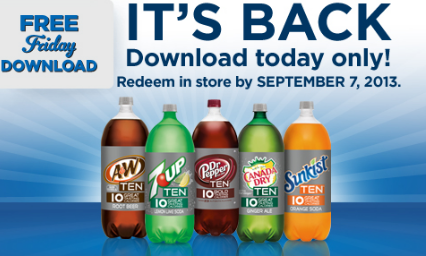 If you shop at Kroger or an Affiliate store you can load a coupon for a FREE 2-liter of 7UP TEN, A&W TEN, Sunkist TEN Soda, Canada Dry TEN, or Dr Pepper TEN. To get this freebie head to the Kroger website and add this e-coupon to your shopper's card to get this freebie next time you shop. Limit 1 per household. You must load the coupon today however you have through 9/7 to redeem.
Visit this page on Fridays.
DOWNLOAD the digital coupon for the free product (make sure to download between 12:01 am and 11:59pm PT). View the coupon under 'My Coupons' in your account online or in the mobile app.
You have two weeks to redeem this coupon in store! Pick up the product at your local Kroger store and digital coupon will automatically apply at checkout.
Don't forget to check back on Fridays to see if a free product is available for download!
Save even more with additional digital coupons you can load directly to your card
When you go to redeem your freebie be sure to check out this great list of MUST DO Deals you may want as well.