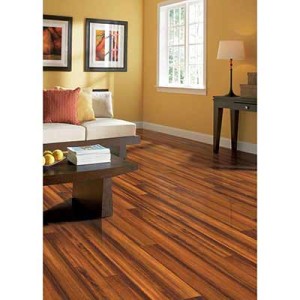 Considering a remodel soon? If new flooring is in your plans, zip over to Home Depot and take advantage of the Special Buy of the Day
! Today only and while supplies last, you can pick up wood laminate flooring for just $16.60 per case, or $.89 per square foot. This is a pretty great deal on this type of flooring.
Next to real wood flooring, wood laminate flooring is my favorite! It's easy to install, easy to keep clean, and virtually indestructable! If you're trying to decide between a darker color and a lighter color, you might want to go with the darker color. I've had both, and the lighter floors tend to show more dirt and scuffs. For some reason, they always seem to look dirty, no matter how much you clean them.
While you're at it, make sure you get an underlayment too. It helps deaden the noise a bit and adds a little extra insulation.