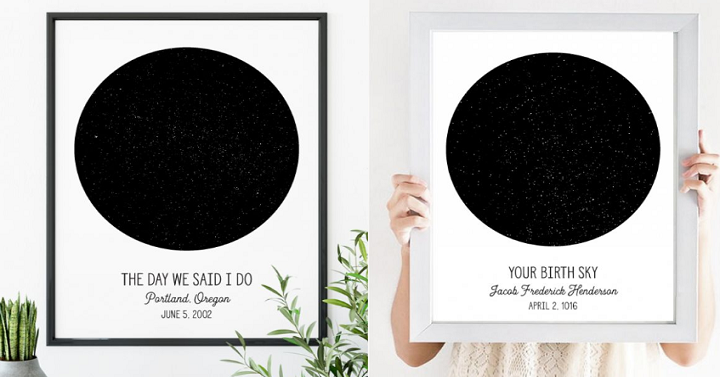 How creative is this?! Get one of these Custom Star Map Keepsake Art Pieces for Only $5.88! (Reg. $28). Professional archival artisan paper and professional archival pigments used that, when combined, creates a beautiful custom artisan print that stands the test of time. Frames and other accessories shown are not included but we hope the inspiration provides ideas as to how you can style your new art prints.
DESIGN PROCESS: All my designs are hand-crafted and created. I photograph many of my design elements and hand-letter and draw many of the visual elements. I digitally compile all elements to create a unique and hand-touched artisan design of the highest quality. The images shown are digital representations, so please note that the printed art may vary slightly in overall appearance. All my prints are professionally printed by a local printer in Portland, Ore.
The substantial weight and artisan quality of our paper is what gives my art that "something special" to stand out. All my designs are printed on professional paper. T
The paper size is as marked and NO TRIMMING is required to frame these art prints. These READY-TO-FRAME prints may be framed in any standard frame. To create a larger statement piece, use a larger frame such as 16×20 or 18×24, and insert a matte that fits the print size. This gives a HUGE visual impact for a fraction of the price! The fade-resistant pigments mean you'll be enjoying your new art for years to come. What a small investment for long-lasting artwork! Due to color restrictions of mobile devices & desktop monitors, it's very normal for colors to appear ever-so-slightly different than those professionally printed on artisan quality paper.