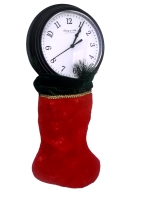 Tick-tock! Tick-tock! The holiday shopping season is coming to an end… This is the time when all you last minute shoppers really spring into action and pull off something amazing!
Last minute shopping can be a curse and a blessing. On one hand, you're under the gun, and you need to get something now! On the other hand…well, you're under the gun, and you need to get something now. For some people, this actually works out well, particularly for those people who work well under pressure.
Last minute shopping is also great for finding amazing deals too! Many stores and businesses bring out some of their best sales in anticipation of last minute shoppers.
If you need a few last minute gift ideas, here's a little list to get you started….
Last Minute Gifts to Buy
Gift Cards
I know a lot of people think that gift cards are impersonal and thoughtless, but it all depends on how you present them. For instance, a gift card to a local coffee shop can be presented in a new travel mug, or a gift card for a movie rental place can be presented in an inexpensive popcorn tub with some movie snacks. If you're unsure of the recipients interests, consider buying a gift card that can be used on several different items, like an Amazon gift card or a Visa gift card.
Magazine Subscriptions
Talk about the gift that keeps on giving! One of my absolute favorite Christmas gifts was a Food Network magazine subscription from my mother one year. She went out and bought the current issue of the magazine and let me know about the year subscription when I opened it. You can usually find good deals on magazine subscriptions online at places like Discount Mags, which has daily deals, or Best Deal Magazines, which has magazine subscriptions for under $5.
Candy
A nice big box of chocolates is always one of my last minute gift ideas. The best part is, these are often on sale during the last minute shopping times, so shoppers can sometimes get great deals.
Books
I can't have a list about last minute gift ideas without including books! The great thing about books is that there's usually something for everyone. Even children who can't read yet will be thrilled with a picture book or coloring book. Try to get a book about something that the recipient is interested in.
Last Minute Gifts to Make
Gift Baskets
Homemade gift baskets can be great last minute gift ideas. They're often easy and inexpensive to put together too. Think outside the basket when you make yours. Try to include a container that both goes with the theme of the basket and can be reused by the recipient.
Homemade Goodies
Who doesn't enjoy a nice big box or tin full of fudge or cookies? I do, which is why this is another one of my go-to last minute gift ideas. Package the goodies up in an attractive tin or box and even include the recipe as well.
Photo Gifts
A photo album is often a much appreciated gift, especially for family members. Just have some nice photos printed out and fill a small photo album. You can usually find inexpensive photo albums at places like Walmart, dollar stores, and even some thrift stores if you're really on a budget.
Tips for Finding Last Minute Gift Ideas
When looking for last minute gift ideas, it's important to keep your recipient in mind while looking. For instance, a person with a peanut allergy probably won't appreciate a batch of your famous peanut butter cookies any more than an animal rights activist wouldn't appreciate a book on hunting.
You should also pay close attention to shipping times if you're looking for last minute gift ideas online. Some websites offer reduced or free expedited shipping during the last Christmas shopping days, while some do not. Always check to make sure that you item will arrive before Christmas and that you aren't being charged an arm and a leg for shipping for an item that you can run to the store and pick up.