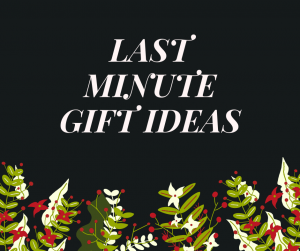 We are less than a week away from Christmas. Do you have your gift bought yet? If you are still scrambling to figure out what to buy for your friends and loved ones, you are not alone. 
It's been such a weird year that I know many of us are not quite in the holiday spirit and lots of us haven't even begun shopping yet! (No judgment…like I said, it's been a weird year!). If you are on the hunt for some great last minute gift ideas, I've asked around and a majority of the people that I have asked have said the following last minute gift ideas are what they would want! 
Last Minute Gift Ideas
Here are some of the best last minute gift ideas that you can give this year. 
Amazon Gift Card – I know that you were expecting to see Amazon gift cards on the list, but I just had to talk about them again. You can order them with next day delivery, via email delivery or you can print them at home! All of which are a win-win for last minute shopping. 
Make and Deliver Dinner – Like we mentioned before, this has been a rough year and as it turns out, many of us have been isolated from friends and family. A wonderful gift idea for people who have dealt with this type of loneliness is to make and deliver dinner or treats for them! Even if you just deliver it to their porch, this will be a gift that they will love!
Subscription Boxes – If you are buying a gift for someone you know, why not check out subscription boxes that are related to their hobbies. There are so many awesome subscription boxes out there! Subscription boxes are an amazing gift because they come monthly or quarterly which means that it's a gift that keeps on giving!