I love cooking, so here's my first recipe for someone not only on a budget, but also with little time and likes good food.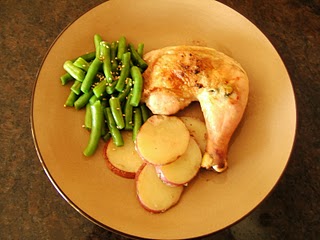 1 roasting chicken (5lbs or so)
1.5 lbs small red potatoes or any of your liking
3 garlic cloves
1 lemmon
3 tbs fresh thyme or dried. You can also use other herbs such as basil or rosemary
3 tbs olive or vegetable oil
Salt and pepper to taste
I start by doing all the non-chicken stuff first. Wash the potatoes and slice about 1/4 inch thick. Lay at the bottom of a 9″x11″ baking dish sprayed with cooking spray.
Mince the garlic, and in a small container mix in the juice of the lemon and its grated peel, the oil and add the chopped up herbs. If you are using dry herbs try rubbing them in the palms of you hards to release some of the essential oils in them. Add salt and pepper. Set aside.
Quarter whole chicken and place garlic/lemon/herb mixture between the skin and the meat of the chicken. Lay on top of the potatoes.
Bake for about an initial 15 to 20 minutes at 450