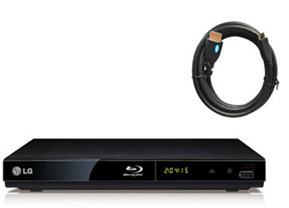 Walmart.com is offering a fantastic deal on the LG BP125 Blu-ray Player/HDMI Cable Bundle for just $44.00  This offer is great to add to that new TV you got!
If you want stunning Blu-ray Full HD 1080p, you've found it with the BP125 Blu-ray Disc Player. Experience Full HD 1080p picture quality and the sound of Blu-ray technology in Dolby TrueHD. You can also upscale regular DVDs for a better quality picture. 
LG BP125 Blu-ray Player:
Full HD 1080p upscaling
Blu-ray/DVD playback
1 x HDMI port
Dolby Digital/True HD sound
Choose in-store pick up for a free shipping option or find a $1 filler item so you can get free shipping on any order $45+.