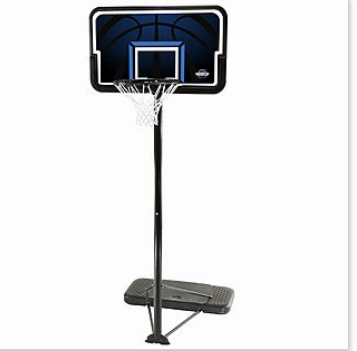 One of Sears' deals of the day is this Lifetime 44 In. Portable Basketball System for $89.99 (down from $139.99) plus free in store pickup.  Shipping starts at $32.75.
To give the portable basketball system a professional finish, the screen displays life-like printed graphics. The ink used in the graphics is UV-protected so you can enjoy an exciting game in sunshiny weather. Play indoors, outdoors or pull up a truck, load it and play at a friend's house. It's portable so you can play anywhere. When the match is over, you can easily carry it to the garage to store away.
Enjoy exciting basketball matches with friends at home with the Lifetime 44 inch basketball system
System is made of hard-wearing, super-strong polyethylene for durability
Backboard is molded out of dense, heavy-duty polyethylene plastic to prevent breaking
System features impressive graphics printed on the screen
Graphics are printed in UV-protected ink to prevent sun damage
UV-protected ink also means you're free to play outside in sunny weather
It's portable, so you can enjoy games indoors, outdoors, or carry to play at a friend's house
System is 44 inches, and can be easily stored away
This is just one of the daily deals, you can check out the others here.