Little Ceasars, home of the $5 Hot and Ready pizza, is no stranger in my home. It's usually the first place we head when I just don't feel like cooking, for a few good reasons. It's cheap, it's fast, and boy is it tasty!
Last night was another one of those nights – I was tired, rushed, and overwhelmed. Between a computer crash the first day of school and trying to catch up on work, I was whooped! Needless to say, the kitchen was the last place I wanted to be!
Plan B? Head to Little Ceasars for some of their Hot and Ready Yum!
I didn't realize last night was the night that my view of pizza would change foreve. Enter the Little Ceasars Pretzel Pizza…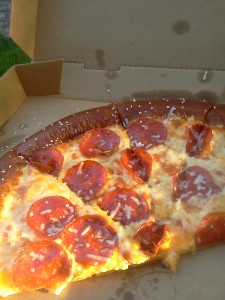 It all started with a quick sample. Then a little pleading from The Girl. And away I went with a regular pizza and a Pretzel Pizza! And, let me tell you – oh boy! Best dinner decision I've made in a while!
This stuff is amazing…
If you like soft pretzels and pizza, I'd almost guarantee that you'll love Little Ceasars Pretzel Pizza! It's a little hard to explain, but I'll give it a shot. The pretzel pizza is actually a pretzel dough topped with cheese sauce (instead of regular pizza sauce), which is then topped with mozzarella and muenster cheeses and pepperoni. A nice big fat ring of soft salt-crusted burnished pretzel crust completes this masterpiece.
To die for, I tell ya! I predict strong cravings ahead!
In fact, not only did I have Little Ceasars Pretzel Pizza for dinner last night, but I also actually had it tonight as well. I'm so ashamed! Actually, tonight's dinner wasn't really planned. We ended up at Mama's house, who – after listening to me blather, babble, and drool about how good pretzel pizzas were – sent my step-father to the pick up a few of them. (Score!)
Oh, I haven't even told you the best part yet! The Little Ceasars Pretzel Pizza is only $6. And that's definitely a price I can live with!
I did a little research online, though,  and it looks like the Little Ceasars Pretzel Pizza wasn't actually supposed to hit most local restaurants until September 1st. Since our area is usually light years behind most other parts of the country, I'm wondering just how we got so lucky. So, if it's not in your area just yet, be patient. It should be available nationwide soon.
If you haven't tried this cheesey mass of pretzely yum yet, put it on your to-do list. It's the perfect excuse to not cook, it's budget-friendly, and it's awful tasty. It may not be the healthiest choice, but who cares? A little splurging now and then is a good thing, right?
Have you tried the Little Ceasars Pretzel Pizza yet? Let me know what you think!