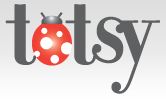 I have posted about Totsy a few times. They have fun kids items such as toys, clothes, and even shoes. I noticed today that they are even doing some travel deals now. You get FREE shipping on your first order, too! Today on Living Social, you can purchase a deal for Totsy.
Here is how to get this deal:
After you create an account or login, click here to find this deal.
Click BUY to get this deal.
Within about 24 hrs your promotional voucher will be active.
The last time this voucher was available on another daily deal site it sold out very fast.  Just as a reminder you get free shipping on your first order when you shop at Totsy.  Right now the site has a blowout sale on apparel and shoes for kids and mom ans well as toys and gear and more.