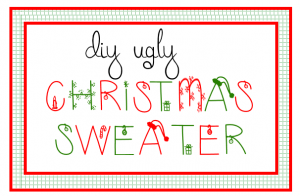 I'm not quite sure when or how the Ugly Christmas sweater fad got started, but it's definitely…interesting. If nothing else, it makes for a great Christmas party theme!
This year, it seems like you can buy ugly Christmas sweaters just about everywhere this year.For being so ugly, though, they can be a bit pricey!
Instead of dropping a pretty penny on an ugly Christmas sweater that you'll only wear a handful of times, if that, why not try your hand at a DIY ugly Christmas sweater? Even if you're not super crafty, you should be able to put together a cheap DIY ugly Christmas sweater for a fraction of the price of a new one. Depending on what you already have on hand, you may even be able to come up with a DIY ugly Christmas sweater without spending a dime!
Find a Cheap (or FREE!) Sweater
To make an ugly Christmas sweater, you'll need an old sweater to start with. Green, red, silver, gold, or white sweaters would work best for this, but you really can use any color in a pinch.
Start your DIY ugly Christmas sweater right in your own closet. Check for old sweaters that you no longer wear. Remember, this going to be an ugly Christmas, so it doesn't have to be in perfect shape. You can cover imperfections like stains of holes with decorations later.
If you don't have any old sweaters on hand, you may need to make a trip to your local thrift store. If you're lucky, you may be able to find a Christmas sweater that's already ugly enough to pass as an ugly Christmas sweater! If not, just find one that fits in a seasonal color and move onto the next step…
Decorating a DIY Ugly Christmas Sweater
Now comes the fun part – decorating your DIY ugly Christmas sweater!
You can use a few different methods to adhere the decorations to the sweater. Obviously, you'll need to decide if your sweater will be worn again when deciding which of the following methods to use…
Glue – Fabric glue, tacky glue, and rubber cement should work well to adhere most decorations to your DIY ugly Christmas sweater. Hot glue should also work, but it could melt some fabrics.
Needle and thread – A needle and thread can be used to add fabric decorations to your DIY ugly Christmas sweater. Use large stitches that can be removed easily if you'll be wearing the sweater again.
Safety pins – If you want to be able to easily remove the decorations from your ugly Christmas sweater, use safety pins to attach them.
You're really only limited by our imagination when it comes to decorating your DIY ugly Christmas sweater. Since it really should have a holiday theme, though, you'll want to stick with festive decorations.
You also don't have to spend an arm and a leg on your DIY ugly Christmas sweater either. Dollar stores and craft stores should be great places to find little inexpensive items for your perty new sweater. You may even have lots of items on hand already, making your DIY ugly Christmas sweater even cheaper!
Felt and fabric scraps – One of the easiest ways to start your DIY ugly Christmas sweater is by cutting out holiday shapes from felt or fabric scraps. Think Christmas trees, Santas, elves, reindeer, and even letters for festive sayings.
Tinsel and garland – Some of the DIY ugly Christmas sweaters I've seen online were created by zig-zagging sparkly tinsel across the front of the sweater in a Christmas tree pattern. Tinsel can also be used as a trim for the neck and cuffs of your sweater.
Ornaments – mini ornaments would work best for DIY ugly Christmas sweaters, but for a super tacky sweater, use large ornaments!
Stuffed toys – A holiday scene with cute little stuffed holiday characters, like reindeer and mini Santas, can add a bunch of cheesiness to your holiday sweater!
Santa hats – Add a santa hat, a fake beard, and some googly eyes to create a Santa Claus character on the front of your Christmas sweater.
Mini-stockings – Those cute little mini-stockings would add a nice touch to a DIY ugly Christmas sweater. Plus, you'll have someplace to stash your treats!
Jingle bells – Jingle all the way with a jingle bell decked Christmas sweater!
Gift bows – Nothing adds a little Christmas cheer like some festive gift bows! Reuse old bows or pick up some cheap bows. You'll most likely need to fasten them to the sweater with glue, thread, or safety pins, though, since the adhesive won't be strong enough to keep them on the sweater.
Cotton balls – A bag of cotton balls can be used to create a snowy scene, snowman, or Santa beard.
Candy canes – Use candy canes on your DIY ugly Christmas sweater, and you'll also be a walking smorgasbord, not to mention minty smelling!
Paint – Fabric paint or spray paint – either one should work!
Yarn – You can do some pretty creative things with a skein of yarn. One idea is to use a large needle and long stitches to sew a pattern onto the front of the sweater.
 Pom poms – Create a complete fun holiday scene with craft pom poms or just use them as accents on your ugly Christmas sweater.
LED Christmas light necklaces – Add some bling to your DIY ugly Christmas sweater with some of those cheap light up Christmas light necklaces you find in the dollar store!
More Frugal Living Resources: