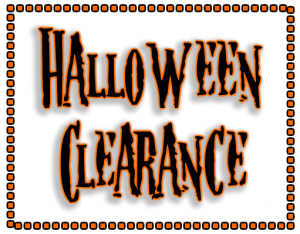 As soon as Halloween is over, I always make sure to hit the numerous Halloween clearance sales around town. Stores like CVS, Walmart, Target and Dollar General will usually begin slashing prices in stores a day after Halloween, although some of them do jump the gun and start a day or two early.
You can score some awesome discounts on all sorts of Halloween-themed merchandise during Halloween clearance sales! It's not unusual to see prices slashed as much as 90% off, which is an amazing savings!
The first thing that comes to mind when shopping Halloween clearance sales is obviously stocking up on decor for next year. However, not all Halloween-themed products have to used strictly for Halloween.
Here are a few tips to help you make the most of Halloween clearance sales for year round savings!
Stock Up on Candy
Candy is usually my first stop when shopping Halloween clearance sales. Halloween candy is still yummy, even after the holiday has passed! This is a great way to stock up on candy for the months to come, especially if you have coupons. You can use the candy for baking, Thanksgiving favors, stocking stuffers, and just for snacking.
Pack Your Pantry
Some companies will put out special Halloween-themed food items, like cake mixes, cookies, and crackers. These items will usually go on clearance along with the rest of the Halloween products, and you can pick them up for a song. As with the candy, food with Halloween packaging still tastes pretty yummy even after the holiday passes!
Add to the Dress Up Trunk
Most kids love playing dress up, and clearance Halloween costumes are a great way to add to the dress up trunk! If your child particularly loves playing dress up, clearance Halloween costumes can also make fun Christmas gifts. Consider picking up a couple of costumes in a larger size, so you can use them next year too.
Check the Clothing Racks
Halloween-themed clothing in orange, black, yellow, and white can often be found hanging around Halloween clearance sales. Some of the clothing may not be too "Halloweeny" and you may be able to find some shirts that can be worn all year.
Find Some Funky Accessories
Funky costume jewelry is one of my favorite Halloween clearance sale items; it's second only to the candy! When sifting through the Halloween clearance aisles, keep your eye out for dramatic accessories, like bold jewelry , fake eyelashes, tattoos, and makeup.
Stock Up on Household Goods
Napkins and paper plates in Halloween colors are also great finds in Halloween clearance sales. Halloween colors can double for harvest colors and be used for Thanksgiving, and black can be used for birthday parties. Of course, you can always just stock up on Halloween paper products for everyday use as well. Other products to keep your eye out for include Halloween-themed plastic bags and scented candles.
Hunt for Intimate Apparel
One thing you may not think to look for in Halloween clearance sales is flirty intimate apparel. Check in the costume section for *ahem* adult dress up items. Red or black corsets can make Valentines day extra special, for example, but that's just the tip of the iceberg. I won't go into details, so just let your imagination run wild and have some fun!
There are my ideas. What will you be looking for when shopping the Halloween clearance sales?
More Frugal Living Resources: