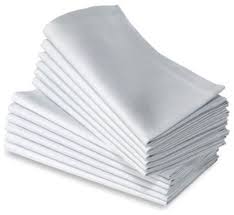 It seems like just yesterday that my family made the switch to cloth napkins. And let me tell you—it has been fantastic! Since making the switch to cloth napkins, I can't imagine going back.
Cloth napkins have so many advantages over paper towels or paper napkins!
They're cheaper. Compared to paper towels and paper napkins, cloth napkins are super cheap! The initial investment doesn't have to cost much, and since you can reuse them, you'll save money in the long run.
They're more eco-friendly. When you're done with a paper napkin, you toss it in the trash. When you're done with a cloth napkin, though, you can toss it in the washer. Since you can reuse cloth napkins over and over again, you're keeping trash out of the landfills and reducing your carbon footprint.
They're more comfortable. Cloth napkins are a little more fancy schmancy feeling than a regular paper napkin. They also seem to clean better, and you don't have to worry about bits of paper napkins sticking to your face or hands.
Making the switch to cloth napkins can be daunting, but it might be easier and cheaper than you think! Here are a few tips to get you started.
Choose the right fabric. Linen cloth napkins are best, but cotton cloth napkins work well too. Synthetic fabrics like polyester just don't clean as well.
Start with white. You may be tempted to run out and buy prints and bright colors when you first switch to cloth napkins, but stick to white at first. They're much easier to wash and keep clean, since you can just toss them into the wash with some bleach. They also go with any decor or season. As you get used to using cloth napkins, you can pick up more fun colors and patterns to add to your collection.
Start with a few and build from there. You don't have to drop a small fortune when you first switch to cloth napkins. Start with enough napkins for a few meals for each person, then add to your collection over time. You want enough cloth napkins to last without running out, but not so many that you're doing more laundry than necessary.
Think outside the box. Fancy linen cloth napkins are great, but they can also be pricey. Cloth napkins don't actually have to be napkins. Large packs of white dishcloths are relatively inexpensive, and they work well for napkins.
Make your own cloth napkins. To save money when making the switch to cloth napkins, try your hand at making your own. You may be able to find some thick cotton sheets or heavy linen tablecloths at a thrift store or garage sale that you can turn into cloth napkins. Just cut them into squares of uniform size and hem the edges.
What do you think about making the switch to cloth napkins?