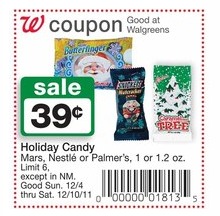 There is a new Mars Chocolate Printable Coupons available right now.  Print this one to save $1 off two seasonal items. This printable coupon doesn't have any size restrictions. so you could use it to grab the following deal at Walgreens:
Buy three Snickers Nut Crackers $0.39 each after in ad coupon
Use $1/2 Mars Chocolate Printable Coupons
Pay 17¢ for three after coupons
Or you could just buy two and get 22¢ of overage on your order.  But make sure to add something extra to your order to absorb the overage because Walgreens won't hand you back cash 🙂  Thanks Heather!
Thanks Printable Coupons and deals!