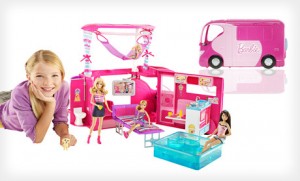 If Barbie is on your list of Must haves consider this offer from Groupon today only 11/14.  You pay just $49 for Mattel Barbie Sisters Go Camping! Camper ($87.98 Total Value) with Free Shipping.  Barbie and her sisters are roughing it!  The Camper unfolds to reveal a full kitchen, sleeping areas for four dolls, a spa pool, and a canine companion.
Details:
Pop-up second floor includes two hammocks
Driver's seat converts to an extra double bed
Like distant relatives who show up on your doorstep right before the holidays, the camper comes with a pup and pet bed
Full kitchen with seating for four dolls
Kitchen accessories include food pieces and dishes
Spa pool with a shallow area for the puppy
Bathroom with a toilet and shower
Open the camper to play, then fold up to travel
Suitable for ages 3 and up
Dolls not included
Assembly required
Dimensions: 23″x9″x12″
Limit 3 per person, may buy 2 more as gifts.  Check out the details here.  This same toy currently sells for about $75 at Toys R Us and Amazon.