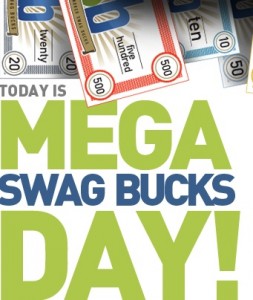 It's Friday which means it's Mega Swag Bucks Day. If you are using SwagBucks as your search and win engine today you have increased chances of winning our Mega Swag Bucks denominations (10, 20, 50, 100).
I have a Swag code alert  for possibly two new codes.  First, a new code available in the Special Offers section. To get the free code just: Visit the Swagbucks site. On the left side bar you will find a link to "Special Offers." Click on that. On the Special Offers page click on "No Obligation Offers." Skip all of the offers and at the end of all of them you will find your free code worth one point.  Second, sign up to the Swag Bucks newsletter, a new newsletter will be released later today with a possible free Swag code at the bottom of it.  So visit the Swagbucks homepage and sign up for the newsletter.  You will find a link to do so on the Quicklinks on the left side bar.
If you are not using Swagbucks it is always a great time to start doing so. Swagbucks is a search engine that randomly rewards you with Swag bucks every time you use it. The more you use it the more chances you have to win these Swag bucks. Accumulate these bucks to get free stuff. For example, one $5 Amazon Gift card is worth 45 swag bucks. You get 3 swag bucks just for signing up. Once you are signed up download the toolbar to make sure you use Swagbucks every time you search the web.