I love it when a reader emails me to share her shopping hauls. Here are Melissa's at CVS and Pathmark:
CVS Haul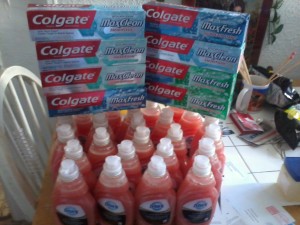 Melissa says: I paid $0.50 for each dawn and $0.50 for each toothpaste. I also used extra bucks! So for these 24 dawns and 8 toothpastes I paid less than $10!!!
Dawn Dish Liquid $0.99
Use $0.25/1 Dawn 04/01/2012 P&G Insert (exp 04/30/2012)
Pay $0.74 each after coupon
Colgate Toothpaste $2.99, Get $2.49 ECB when you buy one
MaxClean SmartFoam, MaxWhite or MaxFresh
Use $1/1 Colgate Max Fresh Toothpaste, 4 oz+ CVS, Reinventing Beauty (exp 05/30/2012)
Use $0.50/1 Colgate Toothpaste, exp. 5/19/12 (SS 04/29/12)
As low as FREE plus overage after coupon and ECB
Pathmark Haul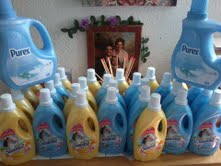 Melissa says: "I paid $1.25 for each purex in Pathmark and I paid $1.00 for each suavitel softener at CVS"
Great way to stock up Melissa!  You too can share your shopping hauls with the rest of us.  Just use this contact form to send me an email.  We love pics so don't forget to take at least one of them!