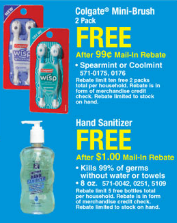 If you have a Menard's store near you, you don't want to miss out the following free after rebate items you can get this week:
Free 8oz bottle of hand sanitizer $1each (limit 5)
Free 2ct Colgate Wisp $0.99
Free 12pack pens (black or blue) (limit 10)
Free LED Book Light $3
These are all free after rebate.  The rebate forms print at the bottom of your receipt and I believe are also available at the front of the store.  These Menard rebates work as a store credit not actual cash back.  ou will get a check that you can use at Menard's only.
Thanks, Jennifer!