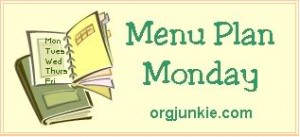 So, I am officially making an effort to making menu planning for the week work for me.  It's my intention from now on to share my weekly menu plan with you guys because honestly I am tired of scrambling at the last minute to find something to eat for lunch and dinner.  We are also all tired of  eating the same things over and over.  To help with that and to find some daily inspiration I have added a new feature to this blog.  If you look at the top bar of my blog I have added a new tab called "Budget Recipes."  In that tab you can find recipes from Better Home and Gardens magazine.  There's a new recipe shared daily, so you get a new idea or inspiration every day.  If you scroll down below, you can also search by type of menu.  My favorite ones to look at are the 5 ingredients or less recipes, 20 minutes or 30 minutes dinners.  Because easy is good and easy usually results in budget recipes.  So, feel free to check every day what the recipe of the day is.  You can even save up to 20 recipes in your "My Favorites" section for easy access to all the recipes you would like to have easy access to.
Here's my family's menu for this week:
Breakfasts:   Usual cereal, oatmeal, eggs or toast with goat cheese
Lunches:  All served with cucumber and tomato salad from our garden and fruit
Peanut butter sandwiches
turkey sanwiches
leftovers
soup
empanadas
lunch out
leftovers
Dinners:
Sloppy Joes
leftover Spanish rice
Sesame Chicken noodle recipes from the 20 minutes dinner recipes
Leftover
One-Dish Turkey and Biscuits from the One Dish Meal Popular collection (great use of those Pillsbury Grands Biscuits you may have gotten cheap after coupon, as well as stockpiled Campbells Cream of Chicken Soup.  Using canned soup should actually make this a fast dinner to make.)
Lunch out
Check out the new Budget Recipe section.  I also want to add that if you click on the icons at the top of the recipe section you will also be able to find the cheapest gas prices in your area.  As well as other fun stuff like check your daily horoscope and get the latest celebrity gossip.  This is my guilty pleasure by the way.  I am a huge celebrity gossip junkie.
Find more menu plans over at Org Junkie.