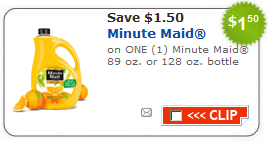 Here is a Minute Maid Orange Juice coupon to help you save $1 off a 89 or 128 oz bottle.  Minute Maid coupons are a bit rare so this one is a good one to have if you like this brand.
Here are other printable coupons:
$0.55/1 Vlassic relish, pickles or peppers (makes the relish free at haw's this week)
$0.50/1 French's Worcestershire sauce (makes it free at Shaw's this week as well)
Thanks Maven of Savin'!