It has been brought to my attention that Facebook has messed up settings again. If you are a Facebook Fan of Common Sense with Money and are no longer getting this blog's updates on your Facebook wall, here's how to fix that:
At the top of your Home page click Most Recent, then click the down arrow next to Most Recent and click Edit Options.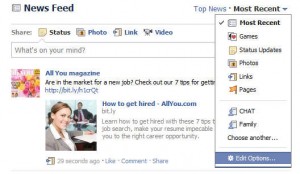 From the box that pops up you have an option to select to Show posts from All of your friends and pages.
That should help the problem. I just did this myself because I had noticed that I was not getting updates from all of my friends and pages.  How can I interact if I don't see updates?
Thanks for the tutorial, Rose Knows Coupons!
Have a topic you would like address in the Daily Money Tip? Send me an email with your burning question. Read previous Money Tips here.

Thank you for reading the Daily Money Tip: Money Management for the Time Deprived.