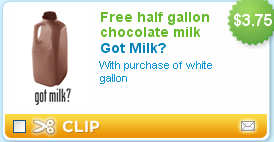 UPDATE:  According to reader Lisa from KY, she also has the coupon available for her to print. If you live in other states and have the coupon available to print share!
If you live in Missouri I have great news for you!!  Coupons.com just released the following two hot new coupons:
Free Half Gallon of Chocolate milk when you buy one gallon of white milk (up to $3.75 in value) and
Free Gallon of milk when you spend $100 in groceries (that's kind of a lot to spend at once but maybe a special trip?)
Milk coupons are so very rare, so print and use while available.  From what I understand these expire in 15 days from the day you print them.
Happy Savings!