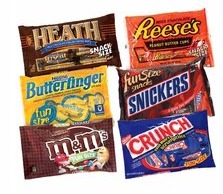 WOW! There is a great M&M's Candy printable coupon currently available.  This one will help you save $1.50/2 any two M&M products (9.4oz or larger).  Through tomorrow (9/24) you can combine these printable coupons with an ongoing register rewards promotion going at Walgreens to get the following deal:
Buy 4 bags of M&M's 9.9 – 12.6 bags 4/$10
Use two $1.50/2 M&M's candy printable coupons
Pay $7 plus tax out of pocket and get back a $5 register rewards
This is a monthly register rewards that was advertised in last week's ad. You should see tags about it in your local store.  This is an awesome deal for stocking up for Halloween Candy.  I am getting my candy shopping done with this deal.
UPDATE: It looks like the fun size are not included in the register rewards deal.  Only the big bags with the lose M&M's inside.  Thanks Kay and Kristie!
Thanks, printable Coupons and deals!