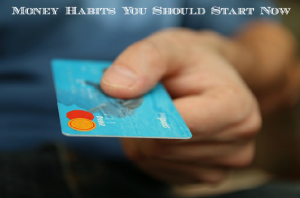 Are you are struggling to pay your bills each month?  Maybe your bills are paid, but you want to learn to save more money?  There are several habits that you should incorporate into your life that will improve your financial health.
Here are several money habits you should start now to create more financial peace and contentment within your life:
START USING A BUDGET
Organizing your income and spending into a budget is your first step to financial peace.  Make sure you include all of your expenses into your budget to take into account all money going out.  Don't forget that coffee run in the morning!
NEVER PAY YOUR BILLS LATE
This one may seem difficult when you don't have much money, but once you are following a budget, it is much easier.  Paying your bills on time will save a lot of money in late fees and possible interest charges.  Even extending your payment on utilities often costs several dollars, do whatever you can to pay them on time.
DON'T OVEREXTEND YOURSELF
If you can't afford something don't buy it.  It is as simple as that.  If you have to put something on your credit card in order to purchase it, chances are you may not be able to pay off your credit card right away and it will cost you more in the long run.
PAY OFF YOUR CREDIT CARDS
If you do charge things on your credit cards, it is best to pay off your bill each and every month.  This prevents you from paying more on interest.  Also, carrying a balance around is stressful.
CHECK YOUR BANK ACCOUNT OFTEN
Checking your bank account often can prevent any oversights from being made on your account.  By checking it often, you can be sure to note any charges that you haven't thought to add or that you may have forgotten about (easy to happen with auto payments) which is great for preventing overdraft charges.
HAVE AN EMERGENCY FUND
Many of us have had unexpected things happen that have caused financial hardship.  Whether a medical issue, mechanical trouble or a broken appliance, these all can be major expenses.  When you have an emergency fund set up, it won't strain your finances when one of these things occur.