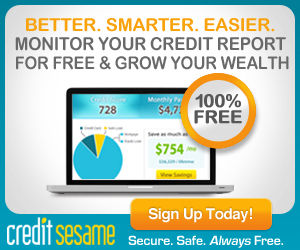 Are you monitoring your credit? If you aren't, you should be! Here's why…
It only takes an instant for your credit and credit score to take a nasty hit. This can happen when your personal information falls into the wrong hands, when you forget to pay a bill on time, or when inaccurate information makes its way onto your credit report.
Monitoring your own credit reports helps ensure that you catch any negative activity – your own or someone else's – quickly. If you catch this information early, there's a good chance that you can remedy the problem and maintain your good credit.
But, why's it so important to have good credit? Well, these days, it seems, credit is everything. Poor credit can prevent you from getting the loans you need, or cause you to pay much higher rates.
Free credit monitoring services are lifesavers for anyone who wants to monitor and maintain their good credit. Credit Sesame makes it easy to monitor and manage all of your accounts, and get your credit score – all for free! You don't even have to enter any credit card information, like on some other sights.
Sign up for free credit monitoring from Credit Sesame, and take control of your credit today, before someone else does.