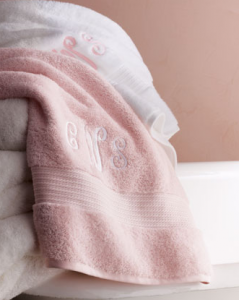 OK guys here is the deal some for you have been waiting for! Right now Horchow (a Neiman Marcus Store) is offering Lauren Greenwich Bath towels for $9.99 plus free personalization and free shipping.  Use the code WELCOME to get an additional 20% off and FALLFS for free shipping.  The codes are good on any of the other towel sizes.  I love the bath sheets because they are humongous but the bath towels are a very good size too.
This deal is very popular every year and I have been sharing it for three years.  It makes for nice personalized presents.  I liked Nancy's idea to personalized it for the kids for camp or the pool.
Thanks Free Snatcher!