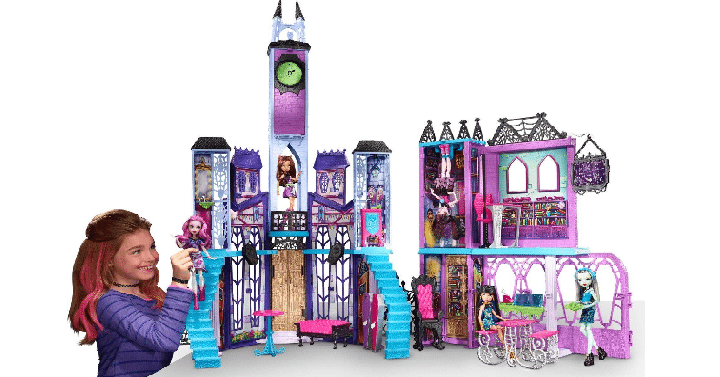 Sweet! Head over to Amazon or Walmart  and get the Monster High Deluxe High School for only $39.97 Shipped! (Reg. $119) That's the lowest price we have seen for this highly rated play set. This would be a great one to grab now and keep for the holidays. Full details include:
Age Range: 6Y+
Explore the mysteries of Monster High with this uhhh-mazing play set that captures the iconic school in monster-scale!
Extra-large, it features multiple levels and rooms with more monster surprises than ever before — like the office of Headmistress Bloodgood, which is revealed when the clock tower is opened!
The front hallway doubles as a party room, with radio booth and signage in the room above and tentacles that pop out from the locker to make a seat
Take a favorite class in the classroom with its blackboard and chairs, and soak up ancient knowledge in the Library/Study Howl
Grab a bite in the Creepateria — there's a lunch line, register, table and tray
Fang out upside-down in the Vampire Lounge — use the gore-geous pink and black quilted chair that hangs from the ceiling or remove it and clip in your doll's feet for the ultimate vampire experience (dolls sold separately)
Expand the school for more play and display possibilities, or close it up for more convenient storage.
There are 14 doll clips included for monster play and display!