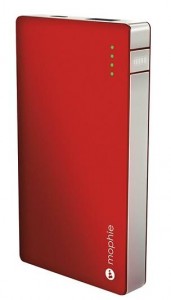 Great deal if you're needing an external battery! Best Buy has this mophie Juice Pack Powerstation External Battery for only $9.99! You can choose from red, white, or black. Details include:
Compatible with most USB devices, including Apple iPod, iPad, iPad 2 and iPhone, Kindle, most tablets and most HTC, BlackBerry, LG, Motorola, Samsung, Palm, Pantech, T-Mobile and Sony mobile phones for wide-ranging use.
Extends your device's run time on the go.
Switchable 500 mAh, 1-amp, and 2.1-amp charging capability. Enables rapid battery replenishment via the included USB charging cable.
4-LED charge status indicator. Keeps you apprised of the battery's condition at a glance.
Sleek, black soft-touch finish
With a stainless-steel outer band provides a stylish look.
Plus, you'll also score FREE 2-day shipping! Awesome!