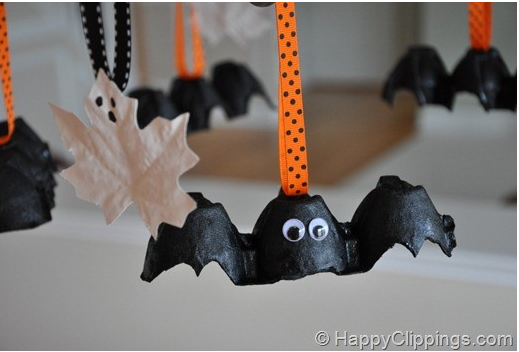 Don't let the cost of store-bought Halloween decorations scare you this year. With a few low-cost supplies, some everyday items and a healthy imagination, anyone can put together cheap Halloween crafts. It can also mean family fun!
Utilizing What You Already Have 
With Halloween around the corner, start saving some items now that might otherwise be thrown away, such as juice boxes. What mom with young ones doesn't have those?
Here's what to do with them:
• Rinse it out so it's not sticky
• Wrap each box is some kind of material, such as tissue paper, felt or even colored construction or copy paper. Secure with tape or glue.
• Once the box is wrapped, drop some stones from the driveway or rice inside to weigh it down.
• Next, trim the top to make it scary! Maybe cut it jagged or to look like Frankenstein, or round it out as a ghost. Cut it like a witch's hat. Then use the left over felt, tissue or copy paper to make eyes, noses, mouths and more. Paste or tape elements of the face on to the boxes to make funny and scary faces.
These little cheap Halloween crafts can decorate a porch railing outside or along a counter or tabletop inside.
No, we don't mean egging someone's house… we're talking about using those empty egg cartons to make some frightening creatures… bats!
• Cut the egg carton in sections of threes.
• Trim the bottoms of the outside cups in a jagged manner so they look like wings.
• Use black shoe polish to color them and add eyes with buttons or paint the eyes on with nail polish.
• Hang the bats from ceiling fans or fixtures or in doorways and windows using ribbon or string.
Here's another way to save on Halloween crafts using items that are probably already in your home.
• Take a black garbage bag and lay it on a flat surface. With the open end facing you, cut strips down from the top to the bottom, not cutting all the way down.
• What you have made is a witch's curtain. Tape or tack it to a white curtain with the black strips facing outward. If the window is open, it's a bonus, as the wind will ruffle the black strips. Even if you don't open the window, it has a Halloween look.
 • Or you can hang it by itself outside on an awning or by the entrance to a door.
With empty gallon milk jugs, black marker, a knife or scissors and Christmas lights, we can create some scary ghouls.
• First, clean out the jug by running water through it. Leaving milk on the bottom could become a smelly problem later.
• Next, draw scary eyes and mouths on the outside of the jugs as you would when you carve a pumpkin. By the way… leave the caps on the jugs so they do not dent or collapse.
• With the scissors or a knife, cut a silver dollar size hole in the back of the jugs near the bottom or on the bottom itself.
• Take a string of Christmas lights, multi-colored or white, and push some of the light inside the hole you made… do this with 3-4 jugs in a row and you've created a cluster of ghouls.
• Place in a window or on porch or any other scary spot.
It's easy to create cheap Halloween crafts with items already available in most family households. And to make it extra special, engage the whole family for extra fun!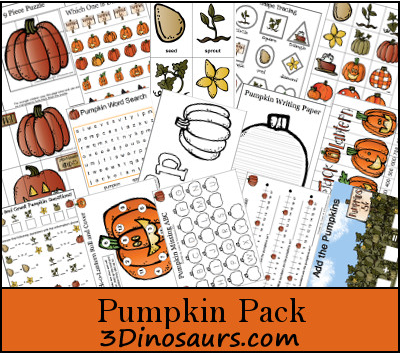 Looking for something that even the little kids will love?  Get the FREE Pumpkin Pack!  The Pumpkin pack was made for kids 2 to 8.  There are over 80 pages of activities plus a 38 page tot pack. This is a lot of Pumpkin fun!  Check these out here.
These are in addition to the fabulous ideas I shared with you a while back.  You can check those out right here!
Photo Credit Happy Clippings and 3Dinosaurs.com