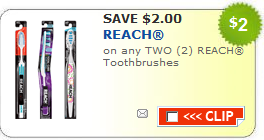 Walgreens has Reach toothbrushes on megasaver sale for 99 cents each all month long. Use the $2 off two Reach toothbrushes coupon (look under personal care and try zip 60712). Walgreens has the Reach Crystal toothbrushes on sale for 99 cents each. Use this coupon to get two toothbrushes for free.
If your store won't adjust coupons down, here is an alternative: Print two coupons, buy five toothbrushes and pay 95 cents for five of them. Not as good as free but only 20 cents per brush.
Thanks Moms by Heart!