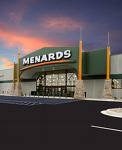 I wrote last week about the freebies Menard's was offering via their rebate program.  Well you can add four more to that list:
Ultimate All-Season Windshield Washer after $2.50 MIR. Limit 2
Black & Decker 7-piece handy driver after $2 MIR. Limit 2.
LED crank flashlight after $5 MIR. Limit 2
60-yd duct tape after $2.50 MIR. Limit 3.
Check out here the rest of the freebies available still and a couple of other good deals.  Thanks Mummydeals!