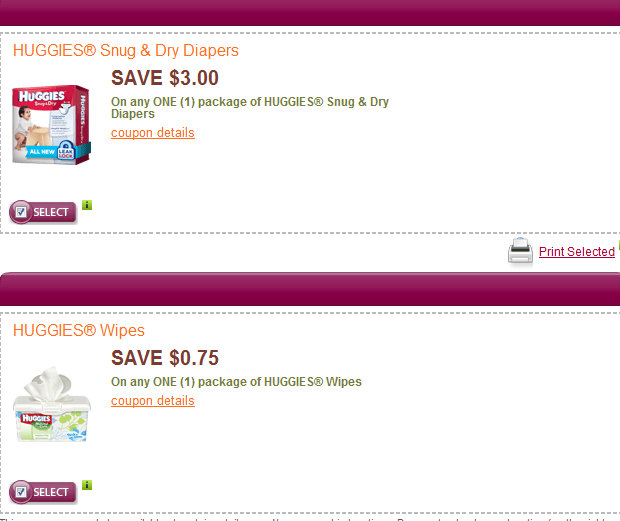 Did you print that super high value $3/1 any package of Huggies Diapers Snug & Dry coupon plus the $0.75/1 any package of Huggies Wipes coupons I posted a bit ago? If not get those now before they are gone. The best part is they have no size restrictions so you may be able to pick up cheap or even free wipes!  Here are a few deals to get you started:
Walgreens Scenario:
Huggies Wipes (184 – 216 ct) – $5.99
Use $0.75/1 Huggies Wipes coupon
OR $0.50/1 Huggies Baby Wipes, 56ct+ 08/12/2012 SS Insert (exp 09/08/2012)
PLUS $2/1 Huggies Wipes, 184 or 216 pk Walgreens IVC, August 2012
Pay as low as $3.24 each after coupons
Rite Aid Scenario:
$10 +UP Reward wyb $30 in Participating Products
Buy (3) Huggies Diapers, Pullups, Goodnights or Baby Wipes, Jumbo Pack – $10
Use three $3.00/1 Huggies snug & dry  or $1.50/1 from SS 8/12
Pay $21.00, get back $10 +Up Reward
That's just $3.66 per pack after coupons and rewards!
Here is an alternative CVS Scenario:
Use $4 off $20 or $5 off $25 diaper coupon printing recently at CVS coupon machine
Use (1) $2/1 Wisk or $2/1 Wisk from SS 8/12
Use (3) $3/1 Huggies Diapers or $1.50/1 from SS 8/12
Pay $17.37, get back $10 ECBs
That works out to be just $2.45 per pack plus get the Wisk for FREE!  Here is my earlier CVS Scenario
Check out the best Walgreens deals and Rite Aid deals here.  Don't forget about this Kroger deal I posted earlier you could score an even better deal with the new coupon!
Thanks Passionate Penny Pincher (cvs deal)