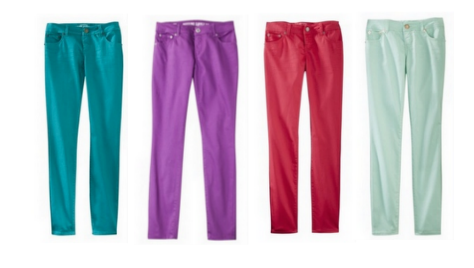 Today only Target offers Mossimo Supply Co. Juniors Skinny Pant in Assorted Spring Colors for $15 only.  Check out the colors available, nice and bright and perfect for this coming spring.
Other Target daily deals include:
Freestyle® by Danskin® Girls' Tank Babydoll – Pink $15
Gilligan & O'Malley® Women's 3-Pack Collection – $8
Junior's Triangle 2-Piece Bikini Swimsuit $12
Clean Water Women's Rosette 1-Piece Swimsuit – $30
and more. As usual all of these ship free but are available today only.